Here's Globe's answer to Sun's iMessenger!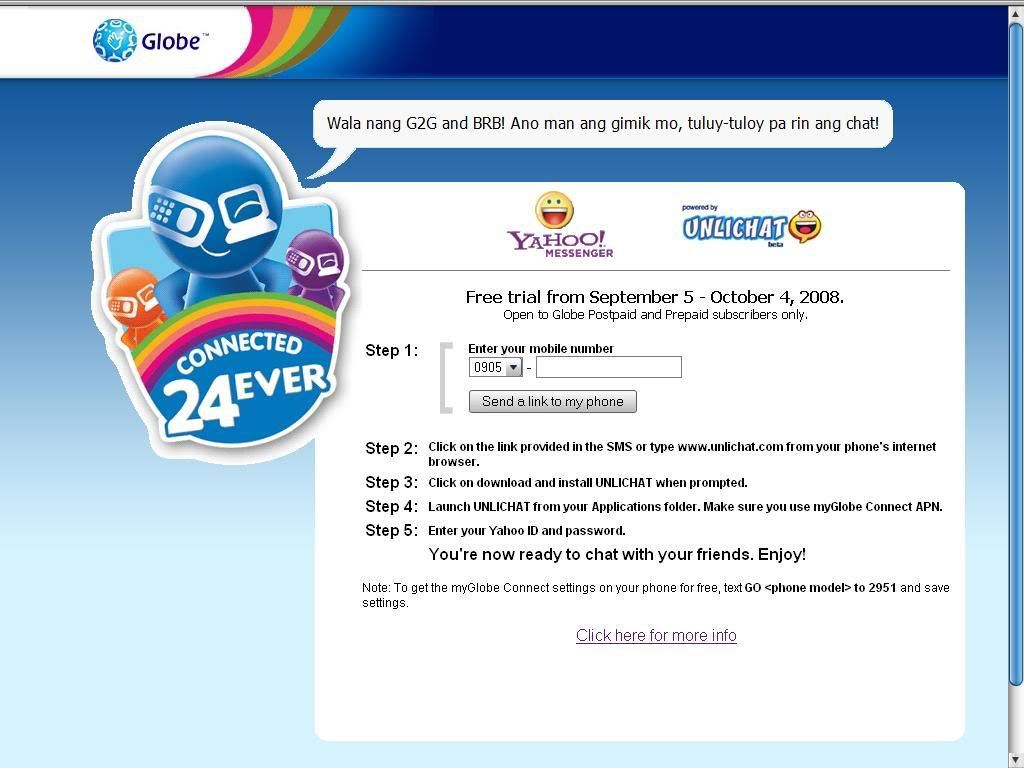 Introducing
Globe's UNLICHAT
"Para wala nang GTG, ituloy-tuloy ang kwentuhan sa YM kahit wala ka na sa tapat ng computer with
Unlimited
chat through Yahoo Messenger! Free trial period from
September 5 to October 4, 2008
.
Hindi na kailangang maputol ang kwentuhan, dahil sa Unlichat, pwedeng pwede ka nang makipagchat through YM gamit ang cell phone mo! While you're traveling, passing the time sa tambayan, window shopping, pwede ka nang makipag-chat, anytime, anywhere kahit walang computer."
What is UNLICHAT?

UNLICHAT is an application-based instant messenger service that provides Globe subscribers mobile access to Yahoo! Messenger, the most popular instant messaging service in the Philippines.

What phone models does UNLICHAT support?
The following handsets are supported as of 2008 Sept 05:
Nokia: 3230, 6120c, 6630, 6680, N70, N73, N76, N80, N95, E65
Sony Ericsson: K610i, K800i, K810i, W810i, W910i, W880i, W660i

We will continuously update the list of supported phones so do check this site again in case your phone is not included currently.
How much will I be charged to use the UNLICHAT service?
The service will be free of charge during the trial period from September 5 – October 4. After October 4, subscribers will be prompted to purchase credits to use the service:

P25 for 1 day unlimited access
P100 for 5 days unlimited access
P200 for 15 days unlimited access.


When signing in, UNLICHAT keeps on prompting me to choose an APN. Which one should I choose?
For most handsets other than the Nokia Series 40 phones, you will be prompted to choose among available APNs. You will typically see the following choices:
myGlobe CONNECT
myGlobe MMS
myGlobe Internet (for Postpaid)
myGlobe INET (for Prepaid)

Choose myGlobe CONNECT. The application may prompt you twice: (1) to allow connection to use network and send or receive data (2) to allow application to start automatically when needed.



How can I easily view my contacts without going through each one of them?
By default, UNLICHAT allow users to view groups and contacts, both online and offline.

9.1. You may also search for your contacts by typing their names. UNLICHAT will automatically narrow down your contacts.

How do I send messages to my YM buddies?
10.1. To reply to a buddy from an open conversation, type on the message box provided at the bottom of the screen and press the fire key (joystick or center key) to send the message. You may also click on Menu and select Send Message.

*Note that message bubble on the user icon means that there is an ongoing conversation with that specific buddy, while an exclamation point within the message bubble denotes unread messages. These contacts are usually displayed on top of each group.



10.2. To start a conversation, select a contact from your buddy list and type your message at the bottom of the screen. Click on the fire key (joystick on keypad) to send your message.